Available
Biatil Tubaz is Egyptian for Beetle Topaz. This ring is part of Jewels Curnow's new line of ancient civilization and space exploration. This is my favorite!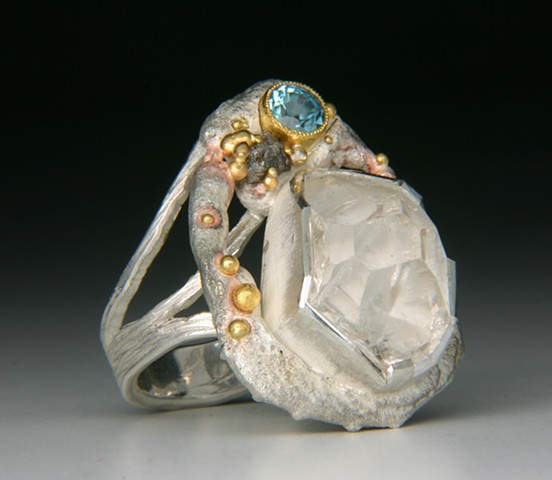 Biatil Tubaz Crystal Ring
Silver, 24kt gold, topaz crystal, zircon, rough diamond
1.25" x .50"
2020
$1150
See this ring at Imogen Gallery Astoria OR
Biatil Tubaz is Egyptian for Bettle Topaz. This is my favorite! I can't stop look at this ring. I want to keep it! The Biatil Tubaz is statement ring for the bold and unique person... Who wants to be QUEEN!
The natural Topaz crystal was selected from a large table full of crystals. I was looking for crystals that looked like they had been faceted nature. I only found a couple of stones that met my desire. The Topaz is set in a pure silver bezel that was cut to fit the lines of the crystal. The blue Zircon is set in a 24kt gold bezel with fine bead work around the bezel and the rough diamond is set with 24kt gold balls.
Size 9
JC214